Welcome to the 2022 Gala, Sharing Stories of Home! As a precursor to the event, we wanted to be sure we provided information related to our fabulous auction items! New this year, we're offering a chance for those in attendance and those who may not be able to attend a chance to explore our items! Should you have any questions, call Jan Shafer at 562 206-2040 or email her at Jans@rancholoscerritos.org
"Sun Porch thru the Sycamore" painted by artist, Brent Dennis
Original 24" x 36" acrylic landscape, comes on canvas. Inspired views from the inner courtyard of the historic Rancho Los Cerritos, Long Beach's first home. The artist, captured the a quiet moment, of beautiful sight-lines through the Sycamore, as the sunlight's glow illuminates the home.
"Iconic Moreton Bay Fig" painted by artist, Brent Dennis
16" x 20" acrylic landscape, comes on canvas. The artist captures Rancho Los Cerritos Moreton Bay Fig as it fills the backyard of the historic home. At over 175 years old, the Rancho's historic Italian Cypress tree stands majestically showcasing sun kissed hues of greens and browns, telling century old stories of times of years past.
F&M suite or seats at an Anaheim Ducks Hockey game.
Exclusive for ten (10) guests, food, drinks and two parking passes. Hockey fans listen up! Enjoy an exclusive opportunity to cheer the Ducks on from the comfort of a luxury suite! You along with 9 of your closest friends, will have clear sight-lines as you catch the game while dining on your favorite foods and beverages. Parking will be made easy as this package includes two premium parking passes!
Red Sox Baseball Tickets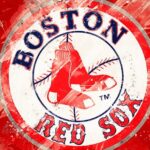 Four (4) tickets to a Boston Red Sox game at Fenway Park in 2023. Celebrate the thrill of live baseball at Fenway Park with four (4) highly coveted tickets to a Red Sox game. This general admission package provides access to the game where you can experience the excitement of cheering for the home team!
It's Time for Dodger Baseball
We hope you're ready to sing, "take me out to the ball game!" The winner of this package will receive four (4) field level tickets to the Los Angeles Dodgers vs. Colorado Rockies game. Parking will be a breeze as this package includes a parking pass in Lot K.
Fire Truck Ride to School
An Exciting Ride to School! Do you have a Firefighter in the making? Then this is the auction item for you! Surprise your little one with a very special ride to school on a Long Beach Fire Department fire apparatus (Engine or Truck depending on availability the morning of your scheduled ride). The lucky student will be picked up at their home with plenty of time to take pictures on the apparatus and then ride with pride to school.  They will be dropped off in front of their school. Arrangements will be made directly with the Long Beach Fire Department.
Duffy Ride in Naples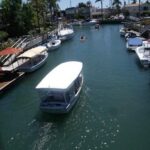 You are bidding on a guided luxury Duffy boat tour of the historic Naples Island.  Your captain and Long Beach icon, John Molina, welcomes you and five friends aboard his semi-seaworthy, environmentally friendly craft. Be prepared to experience an hour and a half cruise as John provides a memorable and humorous historic lecture. Sip wine, champagne and dine on hors d'oeuvres as you navigate through the beautiful canals of Naples. A good time will be had by all…Bon Voyage!!
Terms:  Mutually agreeable dates between November 1, 2022 and October 31, 2023.  Exception being on Boat Parade Night TBD.
"Coffee" painted by artist, Pam Munzer
18" x 22.5"  on canvas. In the spirit of home, add this gorgeous piece to your collection! An original painting by the artist, Pam Munzer, depicts the hospitality in home and sharing. The first offering when you enter someone's home is typically a beverage. Take this one-of-a-kind piece home tonight!
Brunch & Blues at the Killingsworth House!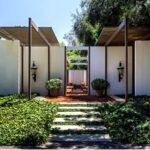 Brunch Buffet & Live Performance by local blues musician Bernie Pearl at the Killingsworth House
Spend a lovely Sunday in Long Beach savoring your favorite brunch bites, mimosas, or draft beer while enjoying Bernie Pearl's mastery of the blues. Hosted at the Killingsworth House, the concert will also include tours of the iconic mid-century modern Killingsworth home, (this is tentative, Janet is confirming) as well as Bernie sharing his knowledge of the history of the blues as a musical phenomenon.
Tentative Date: Sunday, February 12th from 12-3pm
40 spots available
Buffet Provided by Chef Louise Solzman of Chef Louise's Catering
Draft Beer Provided by Ten Mile Brewing
Use of the Killingsworth House Provided by Janet & Larry Watt
Craig. History. Rated R. Martinis and Appetizers at the Wises.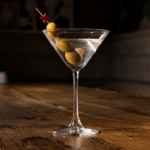 You and your guests (up to 8 people total) are invited to enjoy heavy appetizers ( i.e. you will NOT go home hungry appetizers)  and good drinks at the home of Susan and Erich Wise in Belmont Heights.
While you and your friends sip and savor, Craig Smith, a prolific author, historian, political commentator,  and retired CSULB professor, will regale you with highlights from his podcast with Will Sterling: "History. Rated R."  As the  Apple podcast site describes it: "They unpack the silly, salacious, scandalous, and serious stuff in history. If we don't learn from the past, we're doomed to repeat it. So let's at least try to do it with honesty and, wherever possible, a laugh."
Besides laughing and learning little known facts about famous people (from presidents to prime ministers to Catherine the Great), you may want to join Craig and enjoy a martini to start the evening.   You can decide whether it is made with his favorite gin  (Hendricks) or the Wises' favorite (Monkey 47.)  Wine and other beverages will also be offered.
To be provided on a date TBD that is mutually convenient to Craig,  the Wises and the winning bidder during 2023.  Non transferrable.
McCarty's Jewelry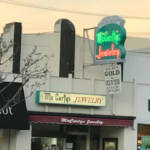 One of a kind necklace by McCarthy's. Since 1932, McCarty's has been the trust jeweler for families across Long Beach and Southern California. They pride themselves on making the moment happy for their customers. Bid on this gorgeous piece to give to someone you love or add to your own collection!
Progressive Dinner at the Newell and Peterson Homes
Progressive dinner for 10. Take part in an extraordinary evening in Belmont Heights with fine dining and wine pairings. Guests will travel through time from the Petersons' modern spectacular home, back to the 1930's as they dine in the Newells' historical home depicting architectural features from a different time and era.
Progressive Dinner in Bixby Knolls
Progressive dinner for 10. Enjoy a fun night with friends and a nice stroll under the stars. This progressive dinner begins in the home of the Trani's with cocktails and appetizers. Next, guests will stroll to the George home for a delicious dinner, paired with wine and beer. The tour will end with dessert provided by the Knatz family.
Sharing Stories of Home at the Rancho by Jean and Barbara
Progressive Dinner at the Historic Rancho Los Cerritos Home with the grandchildren of Llewellyn and Avis Bixby.
The Bixby Grandchildren, Jean Bixby Smith, Barbara Bixby Blackwell and Stephen Dudley will be your hosts, sharing stories of their childhood memories at the adobe home and gardens. 
An historic dinner menu, from the Rancho's archives, will be prepared by great grandson, Chef Michael Blackwell, replicating the 1901 honeymoon menu of Llewellyn and Avis Bixby  
You and your guests will have the Rancho to yourselves to stroll through the historic Ralph Cornell designed gardens and tour the Adobe home as you enjoy  a wonderful evening of great conversations while making great memories.  
Chauffeur, Winery Tours & Tastings, Fairmont Sonoma Mission Inn 3-Night Stay for 2
Rancho Los Cerritos is excited to offer and opportunity drawing the night of the gala! There will be 100 tickets for sale at $100. See the details of the package below.
Trust us, you wont want to miss an opportunity to win this package!
This Experience Includes:
2 People
Collections Tasting Experience at Imagery Estate Winery, Sonoma
Tasting at Chateau St. Jean, Sonoma
Tribute Estate Tour and Tasting at Benziger Family Winery, Sonoma
6 consecutive hours of chauffeured luxury sedan service
3-night stay in a standard Fairmont room (1 king or 1 queen bed) at The Fairmont Sonoma Mission Inn & Spa
Daily breakfast for 2
Winspire booking & concierge service
Imagery Winery prides itself on quality and taste. So much so that it has informed one of the most important pairings yet, wine and art. Imagery Winery infuses art throughout the experience, from unique artwork replicated on every label, to the tasting room, and the dedicated on-site art gallery, featuring label artwork commissioned from some of the world's most notable contemporary artists.