THEN & NOW Exhibition runs June 25, 2023 – May 27, 2024
Discover the growth and evolution of Rancho Los Cerritos through historic and contemporary photographs in our recently installed exhibition, Rancho Los Cerritos: Then & Now. See how the Rancho has changed from its early days as a cattle ranch to its current status as a National Historic Landmark. Historic photos from the Rancho's archive and contemporary photos/artworks created for this exhibition explore the relationships among people, nature, and the land, taking visitors on an illuminating journey through the Rancho's fascinating history.
RSVP for our exhibit on 6/25 2-5pm opening here.
Learn more about the curator and artists:
Guest Curator: Andrea A. Guerrero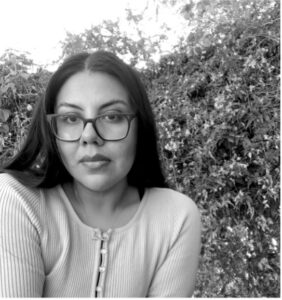 Andrea A. Guerrero is a writer and educator based in Santa Ana, CA. She earned her MA in Art History from California State University, Long Beach (CSULB) in 2020, with an emphasis on aesthetic strategies that question, queer, and redefine marginalized subjectivities developed by contemporary Latin American and US BIPOC artists. Her most recent publication is featured in the anthology "In and Out of View: Art and the Dynamics of Circulation, Suppression, and Censorship" (Bloomsbury Publishing, 2021). She currently teaches courses on writing and art history at CSULB.
@_tranquilizate_
Artist: Tanya Flores Hodgson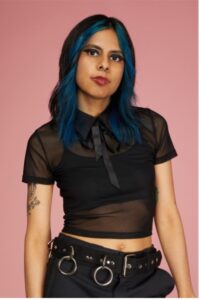 Tanya Flores Hodgson is an artist based in Los Angeles. She was born in Masaya, Nicaragua and immigrated to the United States at a young age. She holds a Bachelor's in Fine Art Photography and a minor in Latin American Studies from California State University Long Beach. Her work focuses on Central American identity, immigration, feminism, social movements and the impact of U.S. imperialism/colonialism on Latin American politics, specifically Nicaragua, through a feminist decolonial lens. She mainly works with photography, video, and text as mediums to showcase systematic oppression on her body and homeland. Her work has been exhibited in Casa de Las Americas, Madrid, Spain; University Art Museum, Long Beach; UCF Daytona Beach, University of Florida; and the Museum of Latin American Art, Long Beach.
tanyafloreshodgson.com/
@tanya_la_guerillera
Artist: Martin Alexander Spratlen Etem (MASE)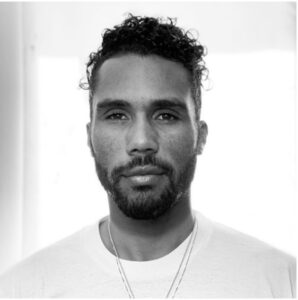 Martin Etem is a multidisciplinary artist based in Long Beach, CA. His work surveys modern society's ideologies and sociology through the use of drawing, painting, and sculpture. Influenced by past experiences and imagination, Etem recontextualizes art history to create a visual language that embodies both a world view and personal narrative by calling attention to race, gender, value, and beauty. He holds a BS in Communications from Syracuse University (2009) and an MFA from University of East London, UK (2013).
mase.studio
@masestudio
Artist: Trinh Mai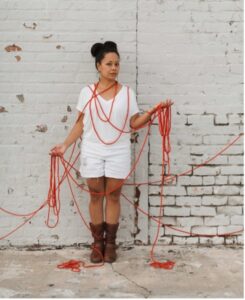 Trinh Mai is a California-based visual artist who works with a breath of natural, traditional, and inherited media that hold histories of their own. Her work examines the ways in which past weaves into present within our refugee and immigrant communities, while documenting the ways in which our nuanced experiences—communal and personal—are shared among all of humanity, then and now. Seeking hope within humanity's consistent struggle in war and hardship, Mai has worked with numerous humanitarian organizations, including the Friends of Huế Foundation Children's Shelter in Việt Nam and Angkor Hospital for Children in Cambodia, also partnering with the International Rescue Committee to develop creative projects with refugee children. In 2019, she was named as Walker-Ames Guest Scholar by the University of Washington, and in 2021, she was awarded the Professional Artist Fellowship by the Arts Council of Long Beach, where she continues serving communities through creative faculties. Mai continues speaking about her art practice and engaging communities in creative storytelling, with the desire to help usher us into communal healing and an enduring hope that will help ground us in a fractured world.
trinhmai.com
@trinhmaistudios
Artist: Miguel Mejia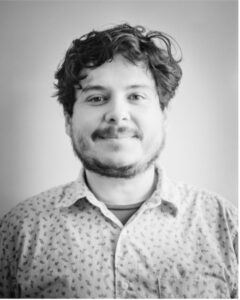 Miguel Angel Mejía (Sinaloa, México. September 15, 1984) is a Mexican artist based in Southern California. He holds a bachelor's degree in Multimedia Production Engineering from Universidad La Salle Noroeste in Mexico, as well as an MFA in photography from Brooks Institute. Focused on social-political issues in both Mexico and the US, Mejía primarily works with photography and interactive installations to create thought-provoking pieces that challenge conventional notions. Infusing his art with satire and humor, Mejía brings a unique perspective to these complex topics. His work has been showcased in exhibitions across Mexico and the United States.
chingarte.com
@chingarteoficial
Artist: Leopoldo Peña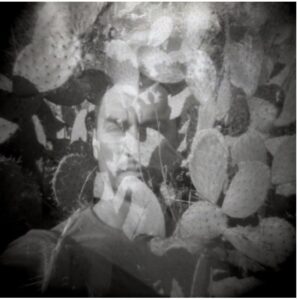 Leopoldo Peña (b. Michoacán, México) has lived in southeast Los Angeles since 1992. He holds a Ph.D. in Spanish from University of California, Irvine. He currently works as a language justice interpreter, a Youth Educator with the Los Angeles County Department of Public Health, and teaches photography at Art Division.
His photographic work is centered on two themes: immigration and contemporary environments. He works on long-term documentary projects with an emphasis on everyday life in southeast Los Angeles and Mexican indigenous migrant cultural performance in California.
He has exhibited at the South Gate Museum, Asian Pacific Cultural Center in Oakland, the Fowler Museum, Pacific Standard Time LA/LA, The Latino Museum in Los Angeles, the Museum of Latin American Art in Long Beach, and the UCR/California Museum of Photography. His work is archived at the Los Angeles Library and has appeared in Boom California, La Jornada, StreetNotes, La Opinión, Al Borde, Derive, Grey Magazine, Retina, NACLA: Report on the Americas, B/W Magazine and El Tequio. He spends most of his free time with his son and daughter.
leopoldopena.com
@lpramos
Thank you to our sponsor for making this exhibition possible.