Weekly Storytime
Our staff and volunteers have collected the best young children's books from diverse authors to read to you under the shade of the California Native Garden trees. They will read stories and sing songs for your family every Tuesday morning at 10 am.
– Storytime is open to all young children and their families.
– This is a free program.
– RLC will set up benches in the shade near our California Native Garden.
– Families are welcome to bring blankets, strollers, and snacks.
– All participants must follow the site's current pandemic protocols.
To enter the California Native Garden, enter the main gates and turn right towards the Visitor Center. Follow the signs for Storytime.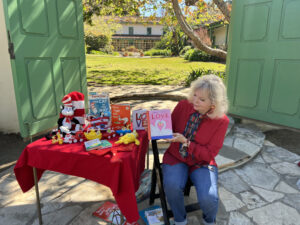 Parking is available in the main lot to the left of the main entrance gates or by driving through the main entrance gates and parking in the handicapped spaces on the left or the forecourt parking lot on the right,
Contact information must be provided for all who enter the site. You may fill out the form for the corresponding day you are attending in our events calendar here or provide your contact information at the event.
Monthly Bilingual Storytime
Join us for stories, songs and crafts in Spanish and English on the third Saturday morning of the month at 10am – 10:45am. Our staff and volunteers have collected the best young children's books from diverse authors to read to you and your children. This free program is open to all children and their families. Participants are encouraged to bring blankets and snacks. The following safety measures are in place: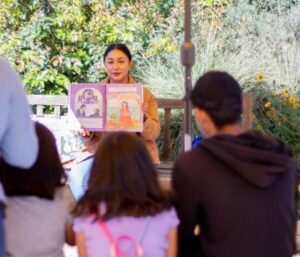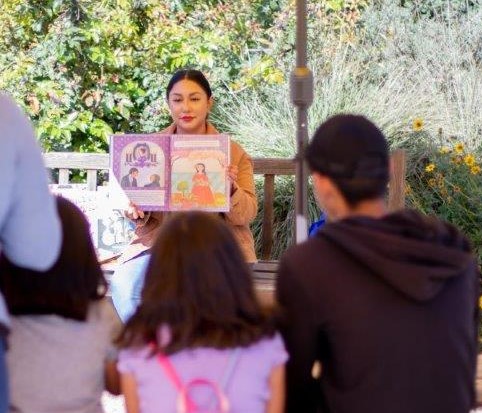 Visite al Rancho para escuchar cuentos, cantar canciones y hacer manualidades en español e inglés el tercer sábado por la mañana del mes de 10am – 10:45am. Nuestro personal y voluntarios han recopilado los mejores libros para niños pequeños de diversos autores para leerles a usted y a sus hijo/as. Este programa gratuito está abierto a todos los niños y sus familias. Se anima a los participantes a traer mantas y bocadillos. Se aplican las siguientes medidas de seguridad:
Virtual Storytime
Virtual Storytime began in April 2021 when in-person Storytime could not safely continue due to the Covid-19 global pandemic. Click below to watch our playlist of videos.